Here are 25 must-do activities in Marrakesh for an unforgettable experience in this magical city.
From exploring the wonders of the busy markets to roaming around the enchanting architecture, we will make sure you do not blink on any detail, all whilst taking yummy bites and discovering the local culture and customs.
Sit back, relax, and grab on your camera as you do not want miss on capturing the beauty and diversity of Marrakech while we take you on a journey through the best 19 things to do I the red city. Whether you are a foodie, a history enthusiast or keen on adventure, you will find THE THING for you!
Read on to discover the magic of this vibrant city and start planning your perfect trip today! Remember to bring your camera to capture the beauty and variety of Marrakech.
Let's start and explore the top 25 things to do in Marrakech!
1. Lose yourself in the labyrinth of souks
Exploring the bustling markets of the old Medina – or the souks, as called locally – is an inevitable activity to live the thorough experience of the vibrant culture of Marrakech. You can find many things in these vibrant markets, such as spices, textiles, souvenirs, and traditional clothes. Do not hesitate to bargain with the nice sellers to get the best finds at the best price.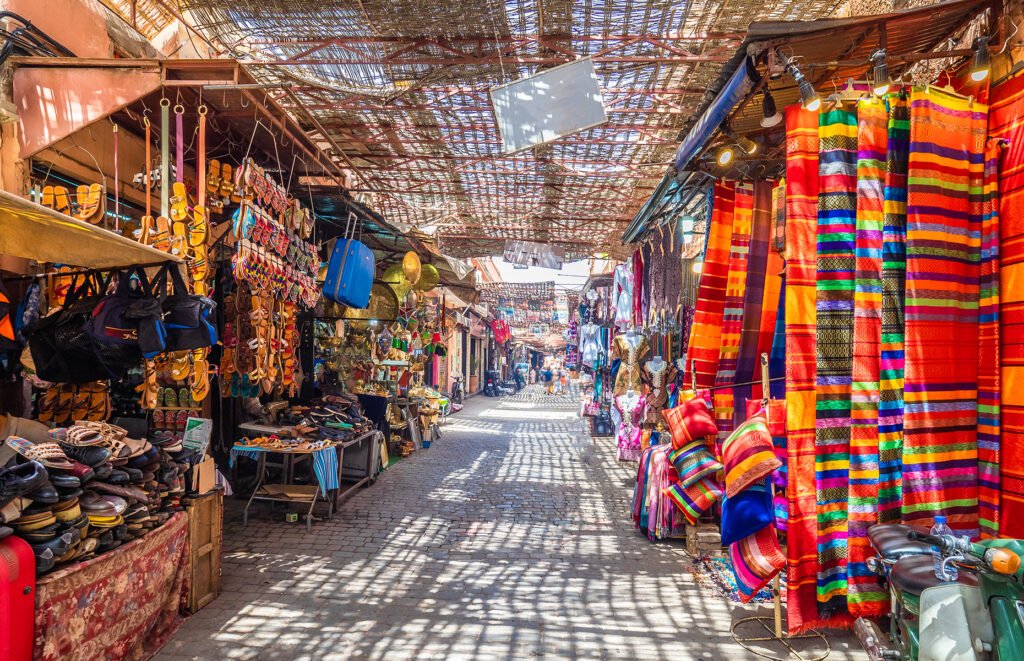 2. Visit the iconic Jemaa el-Fnaa square
Jemaa el-fnaa is the epicenter of the Old Medina and the main scene to witness a phenomenal cultural fusion. It is a full-time entertaining scene under the warm sun light as the breezing moonlight. During the day, the Square is home to fresh juice stalls, snake charmers, musicians, and storytellers. Additionally, the square becomes an open-air restaurant serving delicious street food at night.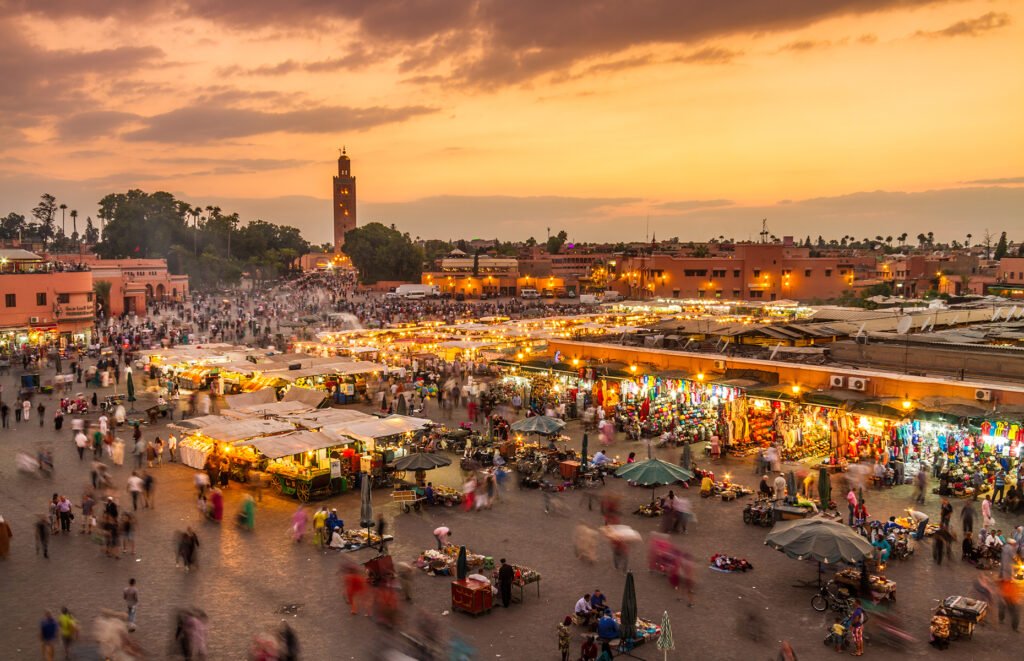 3. Marvel at the intricate architecture of Bahia Palace
Built in the late 19th century, Bahia Palace is a stunning example of the authentic Moroccan architecture and design. This palace is a must-visit for history and culture enthusiasts. It has beautiful gardens, colorful stained-glass windows, and intricate tile work.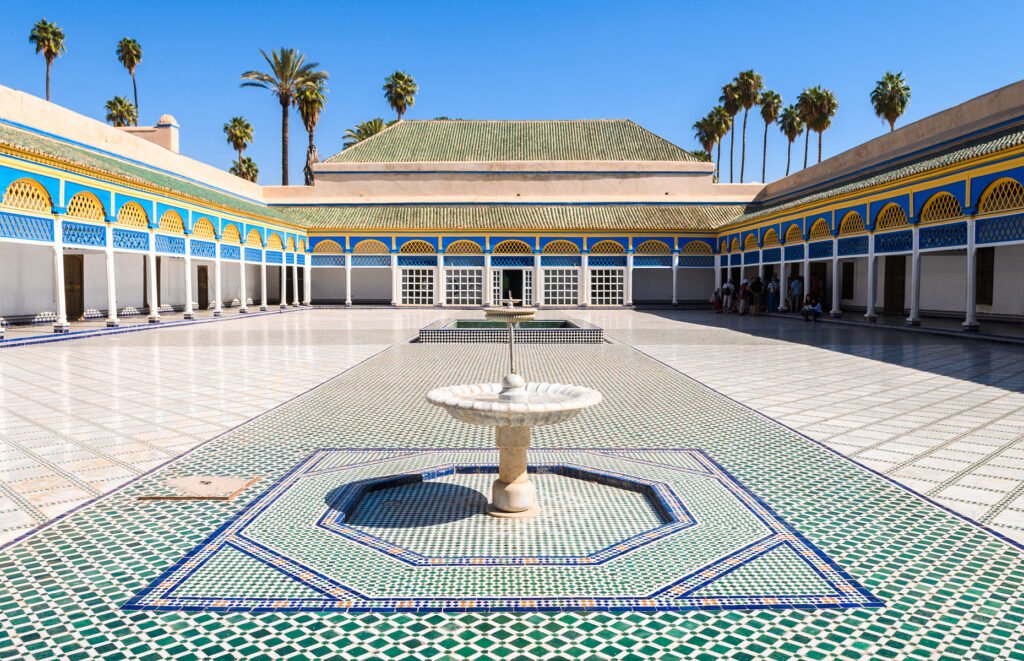 4. Explore the tranquil Majorelle Garden
Escape the hustle and bustle of the city in Majorelle Garden, a peaceful oasis brimming with exotic plants and colorful buildings marked by the unique and famous Blue, Blue Majorelle relative to the French Painter Jacques Majorelle who once owned this garden. It now includes a Museum of Islamic Arts that is open to the public as well.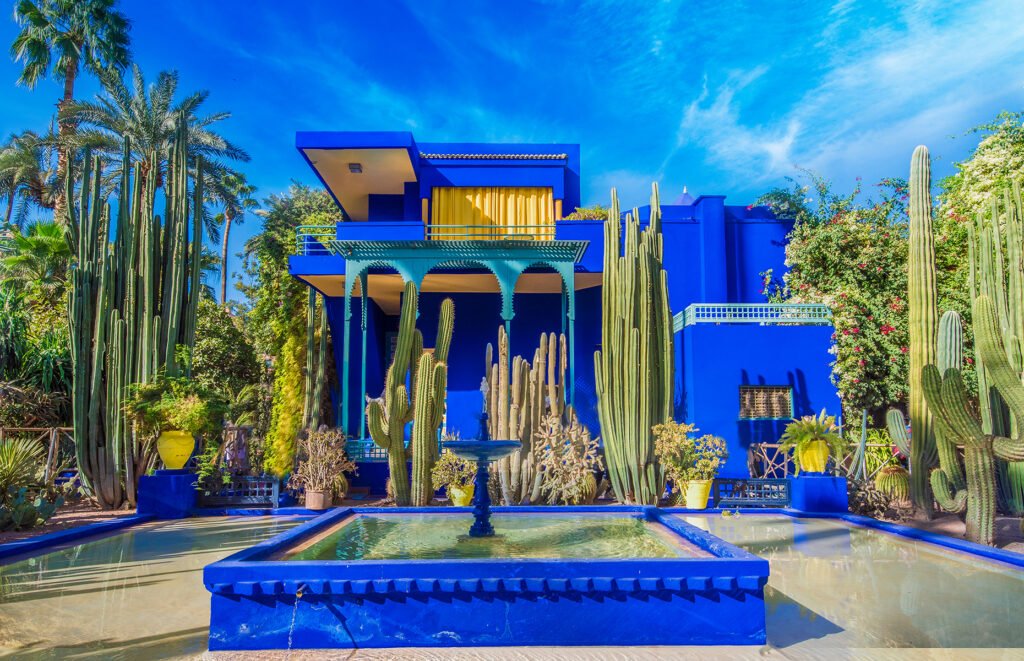 5. Try some delicious Moroccan cuisine
No trip to Marrakech would be complete without indulging in some mouth-watering traditional dishes such as tagines, couscous and pastilla. Whether you eat at fancy restaurant or stop by one of the many stalls, the Moroccan cuisine's flavors and scents will delight your palate.
6. Relax at a traditional hammam
A hammam visit is beyond cleansing. It's a mystical experience that makes you feel rejuvenated and refreshed. Relax in the steam before picking the herbal or oil treatment you want to pamper yourself with after a Moroccan scrub.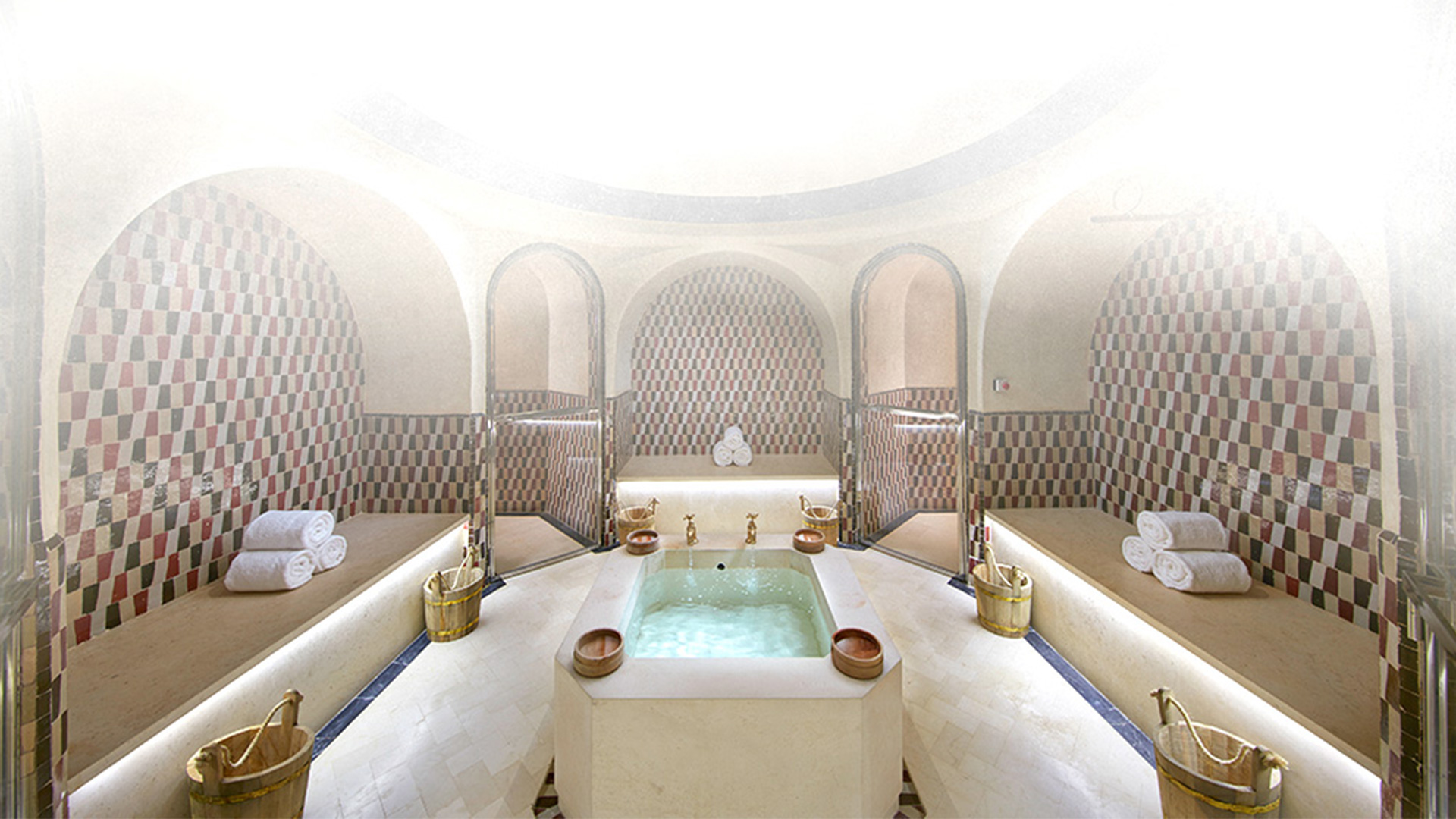 7. Admire the stunning Koutoubia Mosque
Located just next to Jemaa el-Fnaa Square, Koutoubia Mosque is one of the most well-known landmarks of Marrakech. The tall tower is visible from all parts of the city. The unmissable monument attracts architecture lovers and people that are fascinated by the Moroccan and Islamic history.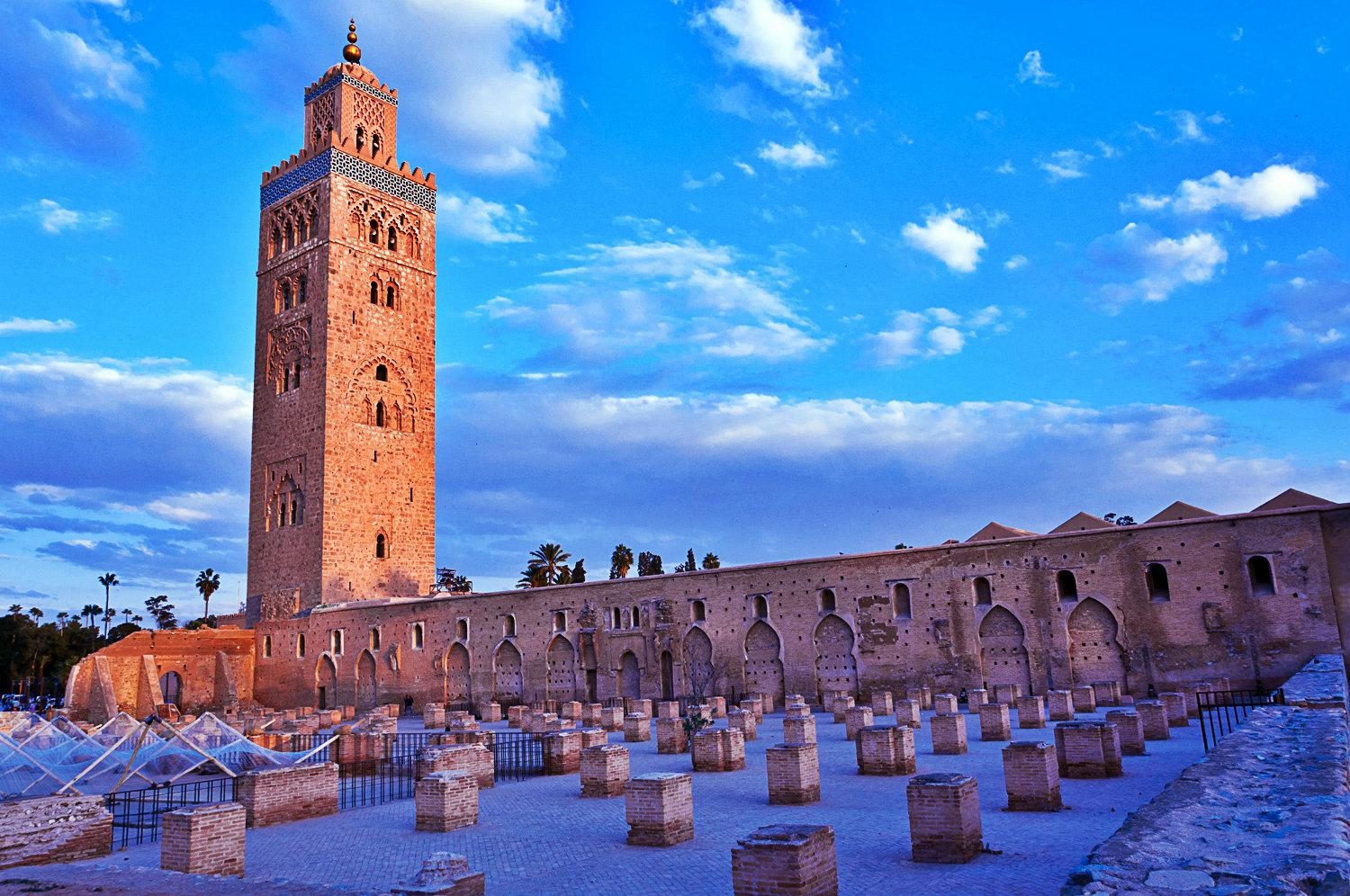 8. Take a hot air balloon ride over the desert
Hopping on a hot air balloon for a ride over Marrakech's dazzling dessert landscapes is one of the joys that the city does not cease to offer.
Observe the dawn breaking over the skyline while you hover over palm plantations, indigenous Berber settlements, and the grand Atlas Mountains.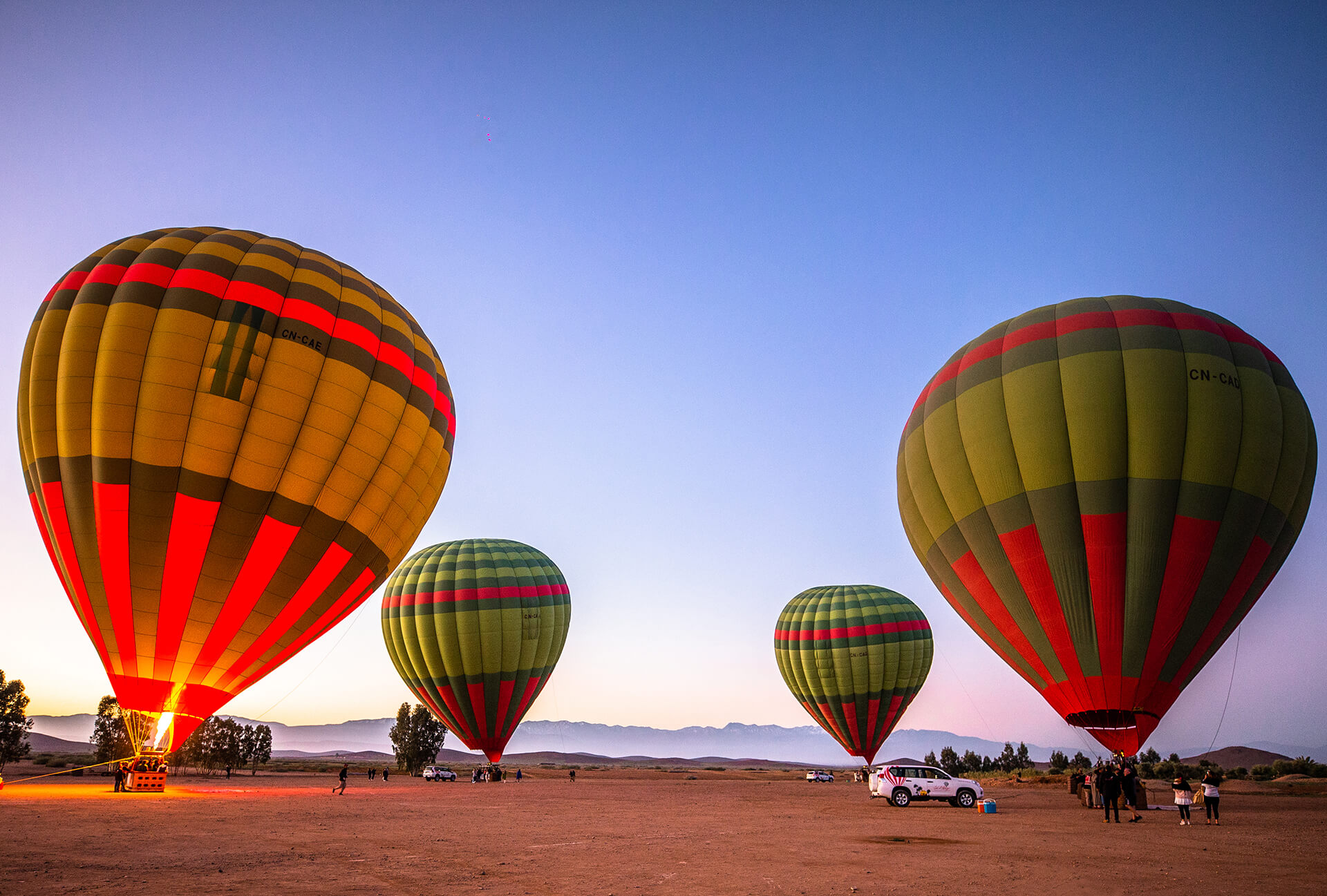 9. Learn to cook Moroccan dishes in a cooking class
Want to improve your cooking skills? Join a cooking class and learn to make traditional
Moroccan food. From buying fresh ingredients at the market to preparing traditional recipes,
you'll get an authentic taste of the local cuisine.
10. Wander through the beautiful Menara Gardens
Located just outside the city walls, Menara gardens is a peaceful retreat with ravishing views of the Atlas Mountains especially in wintertime when you can have a clear view of their snow crowns. You can stroll around the large pool, admire the olive groves and orchards, or feel free to picnic beside them to enjoy the shaded areas.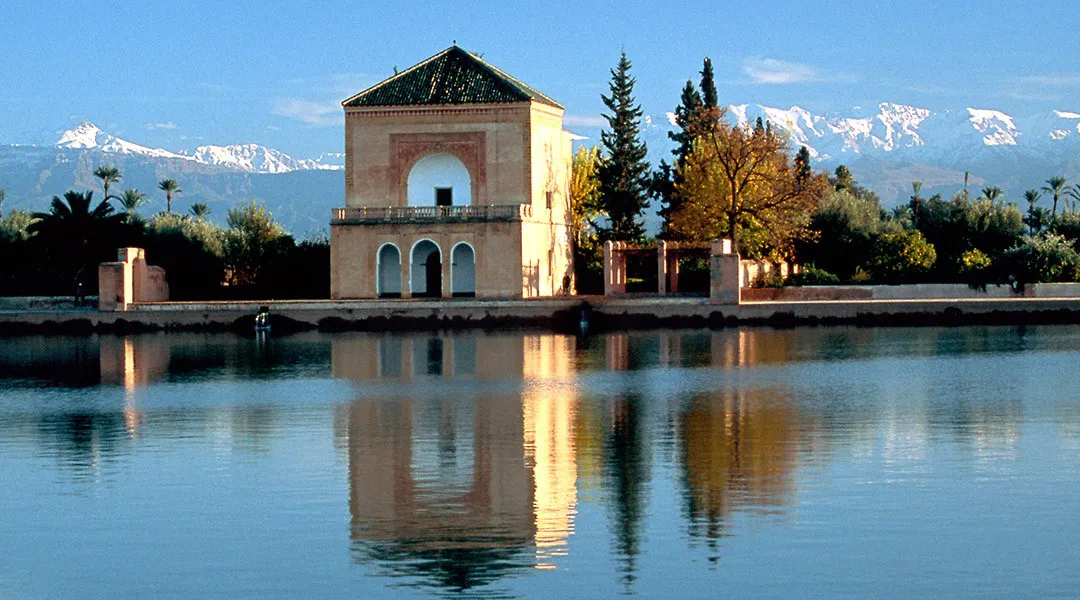 11. Spend a night at a traditional Riad
For an original Moroccan experience, you can try staying at a traditional riad, – a traditional house with an interior courtyard or garden. Get yourself one of those aesthetic rooms and enjoy tasty food and friendly service to fully live the local culture and lifestyle.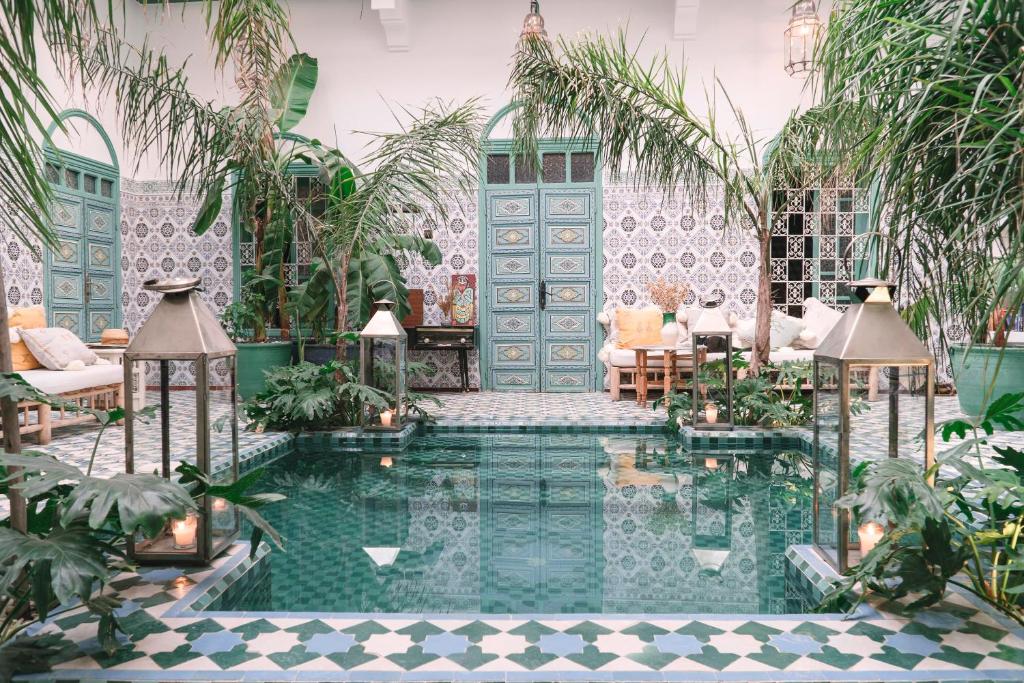 12. Embark on a desert journey on a camel
No trip to Morocco is complete without a camel ride through the magical Sahara Desert. You can go for a day or camp overnight for a memorable stargazing night.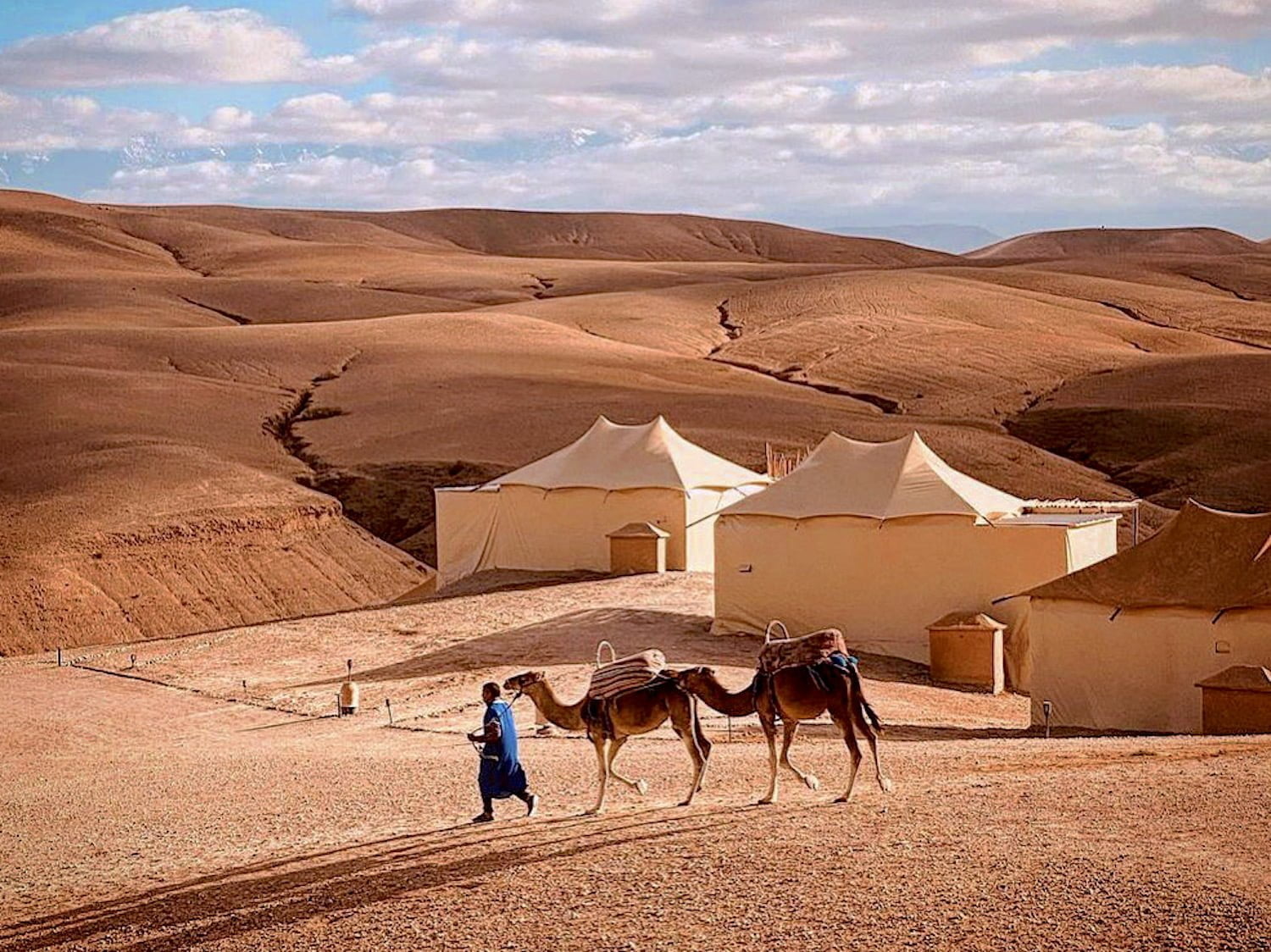 13. Visit the Saadian Tombs
The Saadian Tombs, where members of the royal Saadian Family were buried in a mausoleum that stand out with their magnificent tiles, incredible plaster, and unique architecture from the Saadian reign that still sees light until this very moment.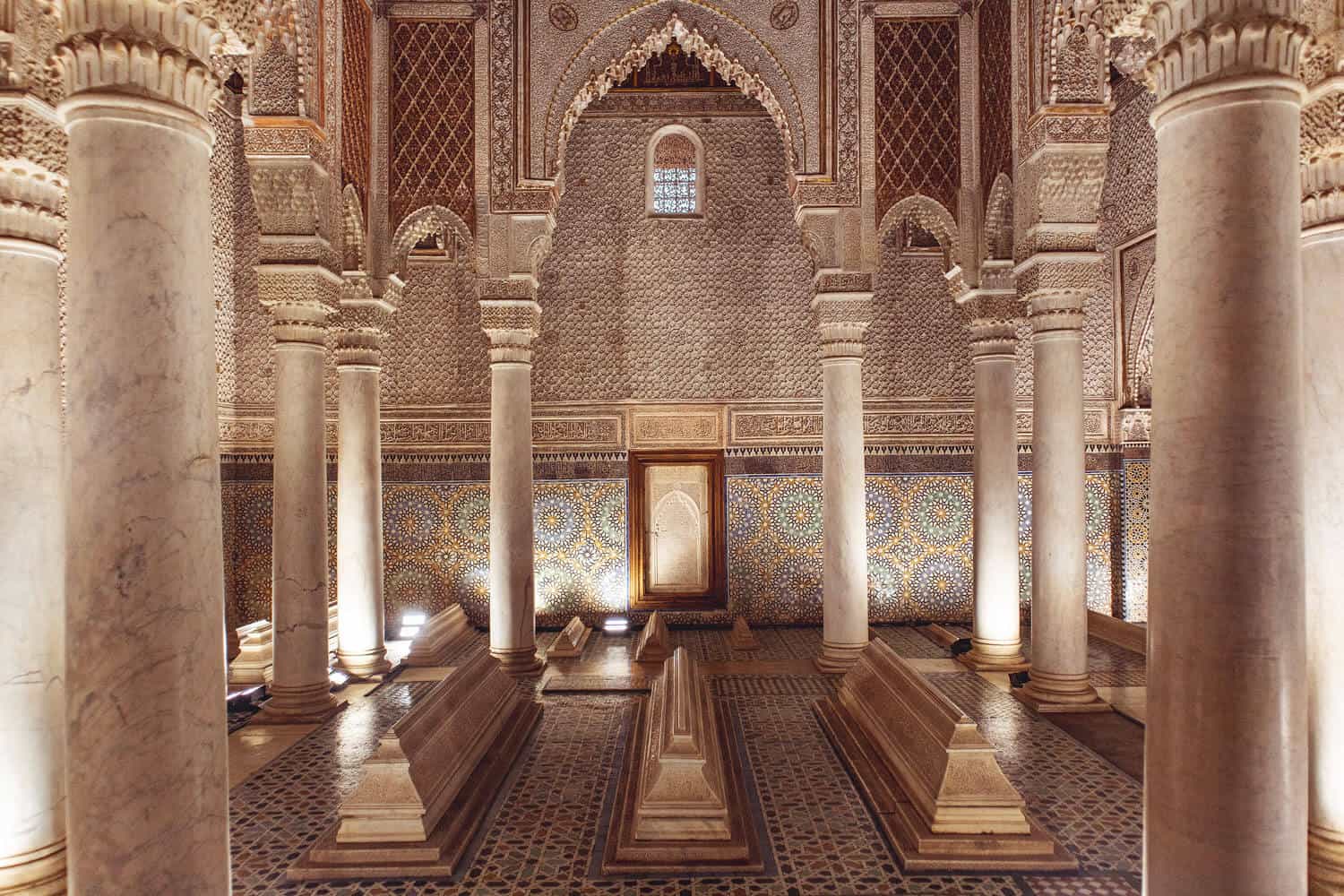 14. Discover the vibrant street art scene
Marrakech is home to a flourishing art scene, where artists from over the globe leave their mark on the city's murals. You can find hidden street art by taking a stroll everywhere in Marrakech, from the main boulevards downtown, to the backstreets in popular areas far from downtown.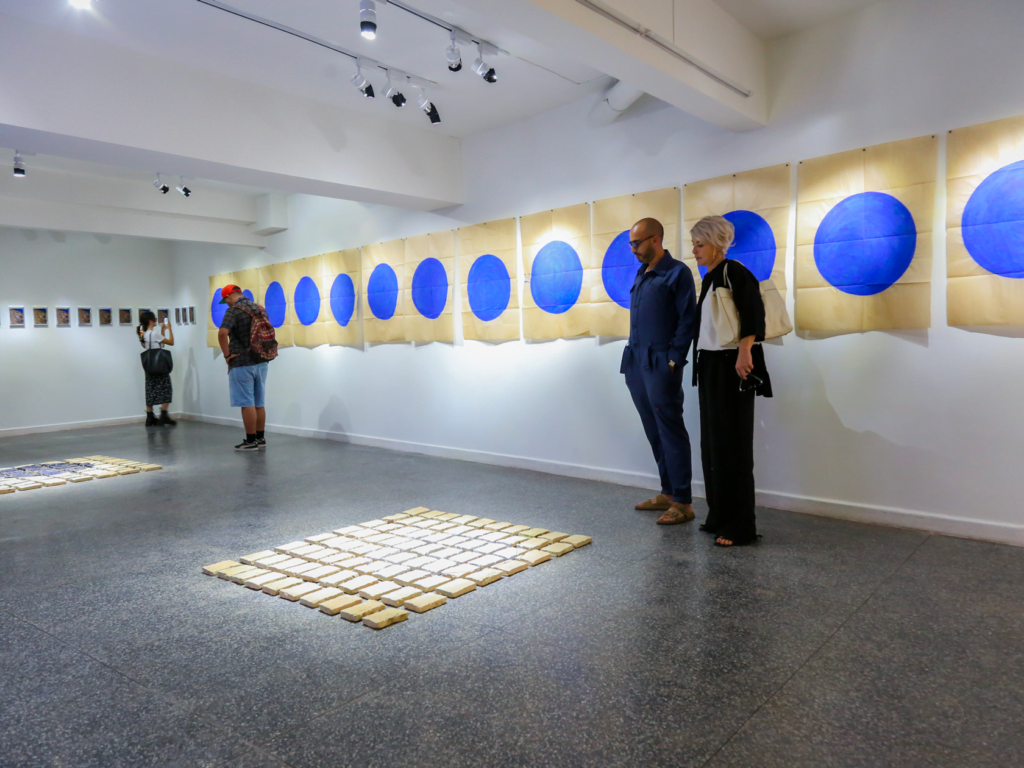 15. Ride a horse-drawn carriage around the city
We understand perfectly how tiring it could be to walk around the city, especially with all the monuments and spots that we do not want you to miss. You can take a horse-drawn carriage with a guide to show you the sights. It's a relaxed way to explore the city. This is an excellent option for those who want to see the main attractions without navigating the busy streets on foot.
16. Explore the Atlas Mountains on a day trip
Escape the city and explore the breathtaking Atlas Mountains on a day trip from Marrakech. You can hike, bike, or ski. You will get to see many Berber villages and beautiful landscapes.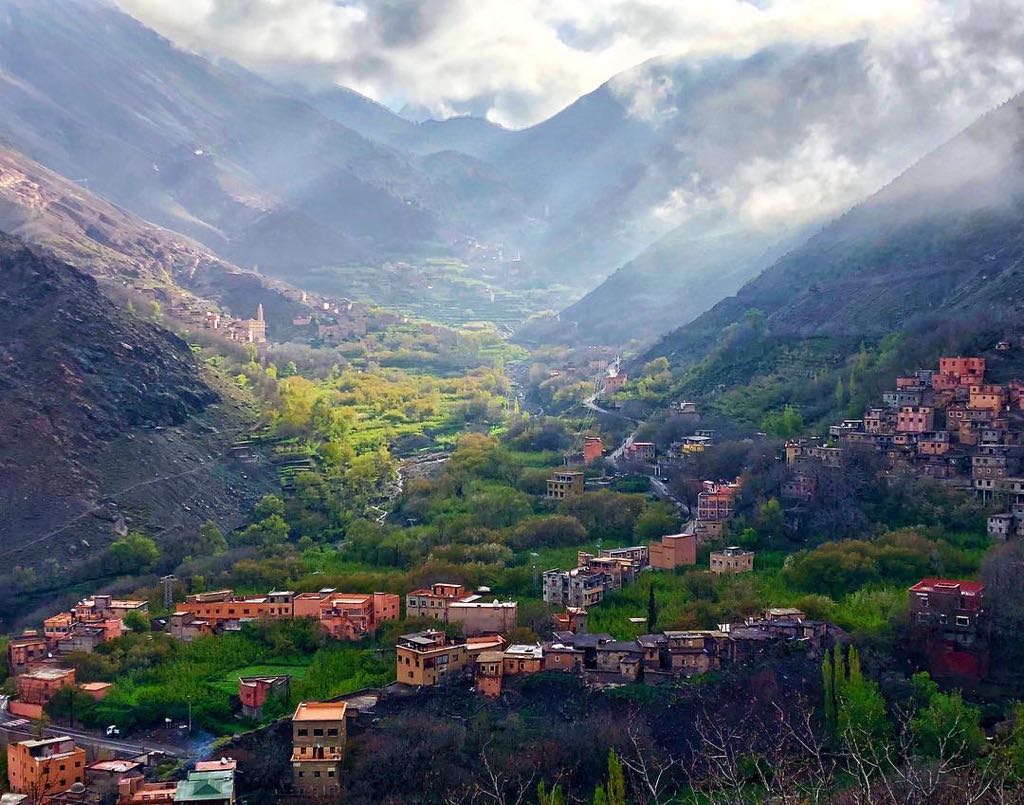 17. Take part in a pottery workshop in a local village
For an immersive cultural encounter, head to a local village and take part in a ceramics class. Learn traditional ceramic techniques and make your unique souvenir to take home and tell stories.
18. Experience the lively atmosphere of Jemaa el-Fnaa square
You must go to Jemaa el-Fnaa square in Marrakech, it's the city's lively heart and a must-visit spot. Busy square with performers, food stalls, and vendors. It's a sensory feast for everyone.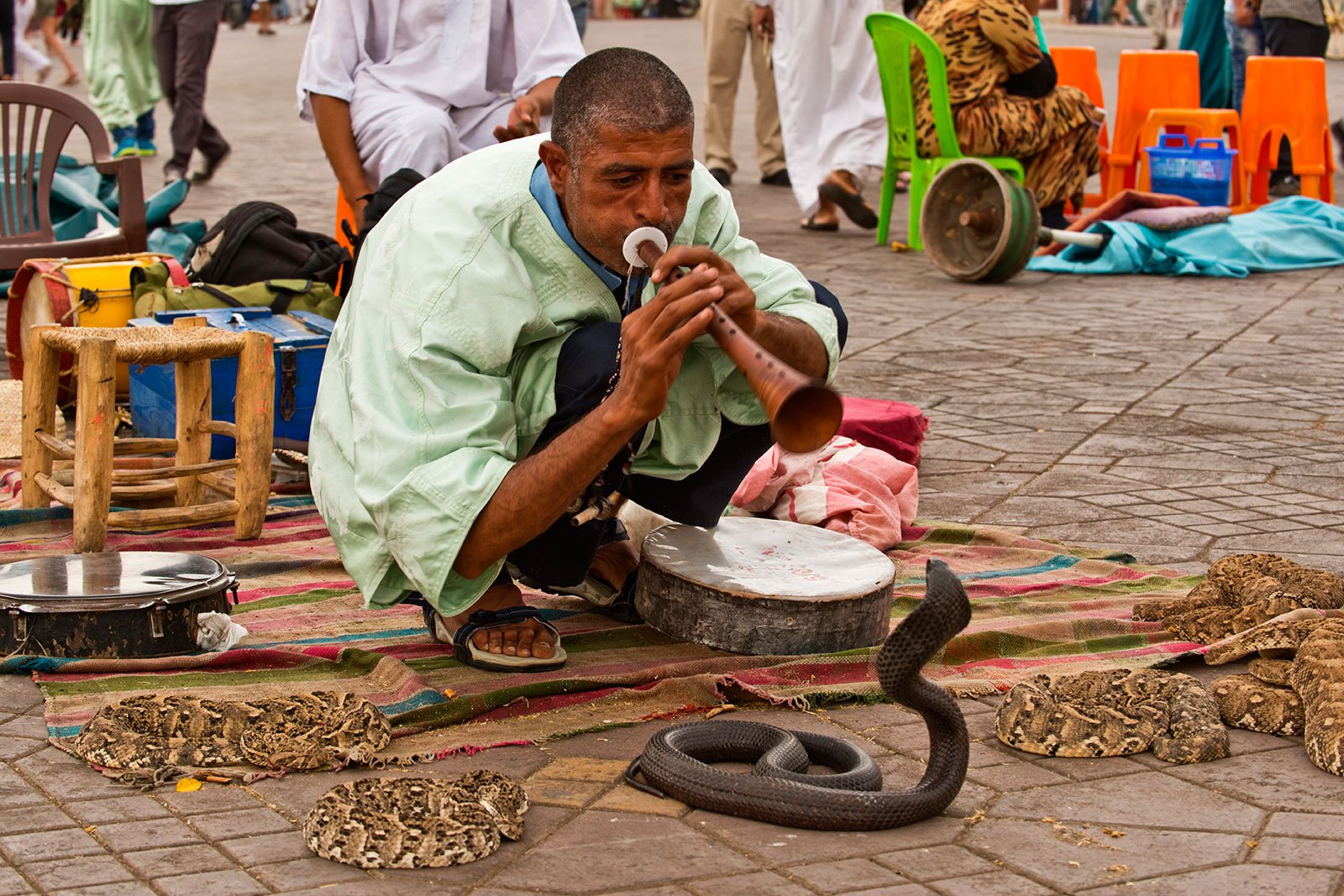 19. Take a day trip to Essaouira
Essaouira is a lovely coastal town with a relaxed vibe, beautiful beaches, and tasty seafood. It's definitely worth a visit. You can go there by bus or car from Marrakech. It's a great day trip to get away from the city and relax by the sea.
20. Learn about traditional Moroccan architecture at the Bahia Palace
Built in the late 19th century, Bahia Palace is a stunning example of Moroccan and Andalusian architecture. This palace is a must-see for history and design enthusiasts, with its detailed tile work, carved wood, and lovely courtyards.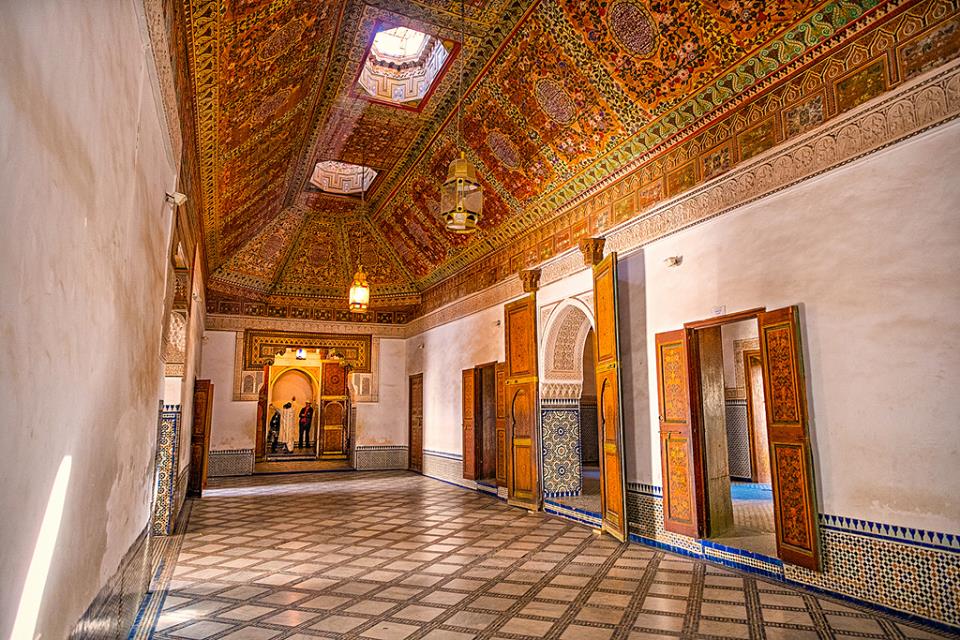 21. Lose yourself in the labyrinthine streets of the Medina.
Marrakech's old city is a maze of small streets and markets, with hidden treasures and busy local life. Lose yourself in its winding paths and uncover new sights, sounds, and flavors around every corner.
22. Includes the Ben Youssef Madrassa in your tour visit
Founded in the 14th century, it was the largest Islamic college in Morocco since the Almoravids' reign. Standing out as one of the Arabic-Andalusian architecture icon in Morocco, it has been declared a UNESCO world Heritage. Lose yourself in the carved plaster, and enchanting courtyards. Take your time to explore the halls and become one with that monumental wonder.
23. Relax at a traditional hammam
Unwind from your travels and experience a traditional Moroccan bath at a hammam. Expert attendants will scrub, wash, and massage you, leaving you feeling refreshed and rejuvenated. This is also a great way to learn about local customs and traditions.
24. End your trip with a rooftop dinner overlooking the city
Before leaving Marrakech, enjoy a last meal at a rooftop restaurant in the city. Reflect on your
trip and bid farewell to the stunning city while enjoying its beautiful views and tasty
Moroccan food.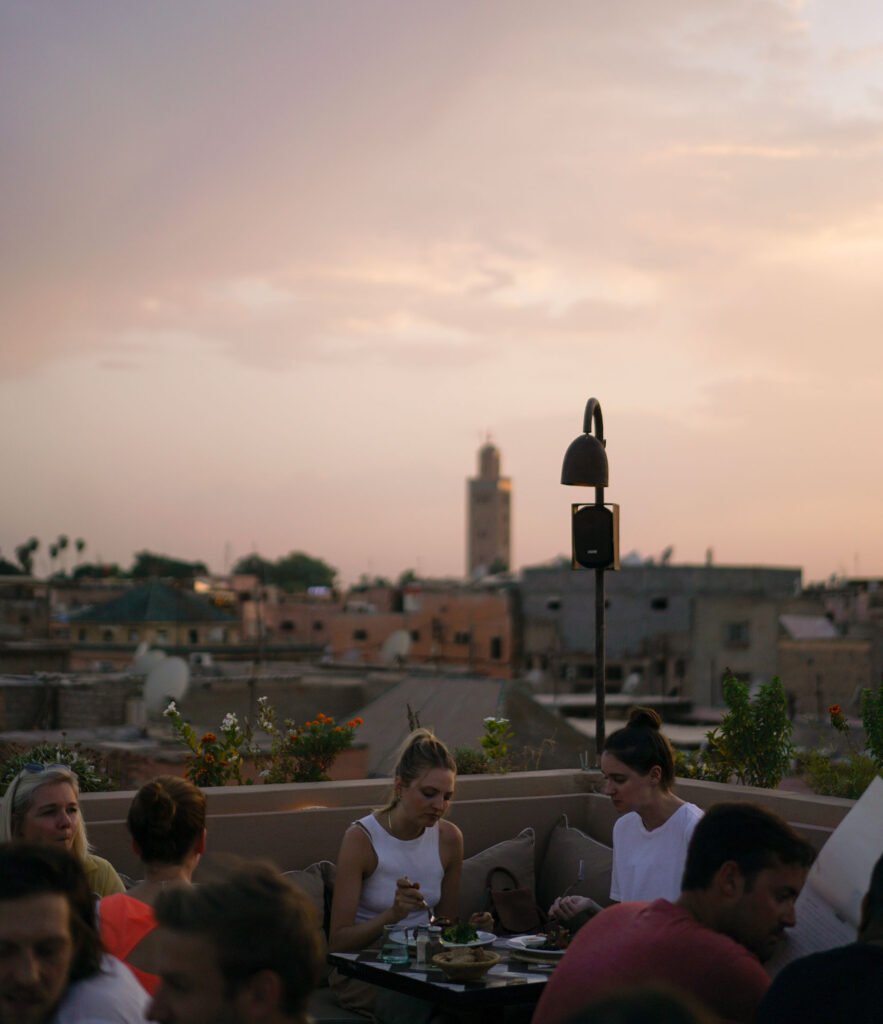 25. Return again and again for new adventures
Marrakech is a vibrant and bustling city in Morocco that should make your travel list. A visit to this captivating city offers guests the best of all worlds – from the hustle and bustle of Jemaa el-Fnaa Square to the picturesque oasis of Majorelle Garden. There's something for everyone – street performers, Medina tours, souks, hammams, traditional architecture and much more! Whether you seek adventure or relaxation, Marrakech has it all. So, what are you waiting for? Pack your bags, grab your camera, and head off on an unforgettable journey to enchanting Marrakech. And don't forget to stop by Nasire Bags Store in Rahba Lakdima for some timeless leather goods!

Happy exploring!